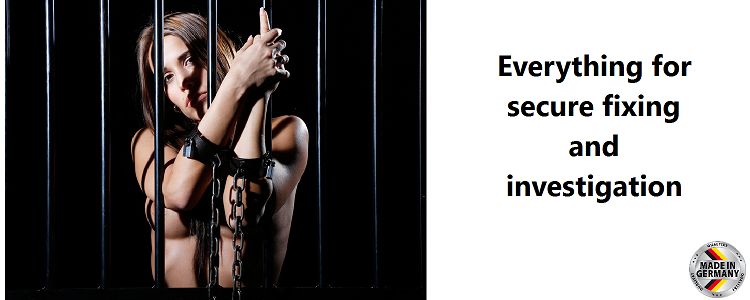 Our BDSM furniture not only impresses with its high functionality and its variety, but above all also by the stability and durability of our furniture pieces.
Made of the finest stainless steel produced in our own workshop, these pieces of furniture offer an enormous durability and a rustic appearance which is perfect for the BDSM setting.
High quality BDSM furniture directly from manufacturer
We manufacture SM furniture directly in our own workshop and can thus guarantee its high processing and material quality. Finally, we want to offer our customers an experience on our SM furniture that is not tarnished by lack of processing. The metallic look is retained in the BDSM furniture made of stainless steel, even during long or intensive use, this SM toy always remains in perfect condition. Due to the used stainless steel, no color can splatter, so the look always remains impeccable. Rust or scratches are also a thing of the past with our BDSM furniture. Captivating and wet games are now no longer a problem thanks to stainless steel in the best quality. This will allow you to make your BDSM games even more flexible and exciting. After all, you do not have to pay attention to our BDSM furniture. The hugely stable workmanship and the high-quality materials allow for practically no counterpart of the passive part. Whether in the massive BDSM cage, on our floor pillory or on the penalty box, which can easily be converted into a gyn chair: You always keep the BDSM furniture Full control over your slaves and subs. So for this the illusion increases with our BDSM furniture. A bondage to a penitent or pillory, which can be overcome with a pure physical force, often erodes the charm of a session. A BDSM furniture in our quality, however, quickly shows the boundaries of the passive part. The fall into the role and the surrender are thus again intensified.
Stable and valuable
Thanks to the high stability and durability of the furniture, it is also possible to enjoy shackles in various forms. Regardless of whether you tie your partner to the BDSM furniture or punish it thoroughly! Since our SM furniture is made of high-quality and, above all, non-allergenic material, it is not only very easy to clean, but is also ideally suited for allergy sufferers. The disinfection of the furniture is also quick and simple. You do not have to look at the surface and see if the disinfectant is in harmony with the coating or varnishing of the furniture. Our medical stainless steel can be disinfected simply and mainly. For this reason, our BDSM furniture is very popular with both individuals and dominas. Search BDSM furniture is an investment which will continue to pay off in the future. While cheap BDSM furniture often suffer from their appearance and functionality after a few months of intensive use, our BDSM furniture still looks like the first day. The great and tingling stainless steel look gives the play room its own charm and conveys harshness and consistency. A sub or slave bound to one of our BDSM furniture can not be so easy to get rid of. And if you also use our fucking machines with the appropriate accessories, your passive part will quickly whimper for rest and grace. With our BDSM furniture, you have the ability to manipulate the pleasure and pain of your subs in a targeted way and to live out your desires.
Our BDSM furniture will inspire you with:
Their high functionality and the wide range of possible applications
Their high stability and resilience
Your long life thanks to high quality materials
You will also be convinced:
The high-quality processing of all BDSM furniture from our manufactory
Our quality "Made in Germany"
The interplay of steel and leather for a special look
The easy cleaning and disinfecting of our BDSM furniture
If you feel the charm of simply trying out our BDSM furniture yourself and thus giving your studio or even your bedroom a completely new look, then just grasp. High quality BDSM furniture is an investment with a long life. While others buy the third BDSM furniture within a few years because they could not withstand the strain, our BDSM furniture still work to the fullest satisfaction. Just grab and order your BDSM furniture today.