Parachute combination of leather and stainless steel
The Testicle Parachute, for example, hugs the testicle tightly and securely and allows the attachment of weights or tethering to a pillory through sturdy and securely guided chain links.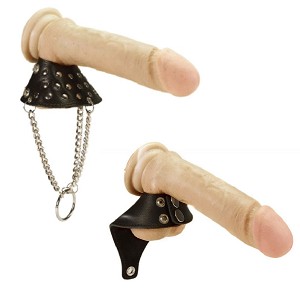 Secure fastening of weights
Just like the testicle cuff, the Parachute is placed tightly around the testicles and fastened there securely and firmly.
The leather of the Parachute testicle cuff adapts very gently to the body shape and body heat and offers optimal wearing comfort even during longer sessions.
Thanks to the good choice of materials and the enormously good compatibility, these materials are also suitable for allergy sufferers and the Parachute can be easily cleaned and disinfected .