What is a ball stretcher?
Before you buy your first ball stretcher, you should think about the different areas of application of the ball stretcher. Depending on the area of application, the material and weight of the ball stretcher can vary.
Basically, Ball Stretchers are supposed to stretch the scrotum and push the testicles into the end of the scrotum.
They are therefore attached to the scrotum above the testicles and stretch it by their size and weight. Accordingly, you can already decide on different weights and sizes for the ball stretchers. Equally important, however, is the wearing situation and comfort.
While a light and small ball stretcher only gives you the feeling of gently enclosing the testicles, large and correspondingly heavy ball stretchers can definitely provide the stretch with a pain component.
Do you want to wear the ball stretcher out of pure pleasure or should it be put on you as a punishment? Do you wear it only for a short time or for a longer period? And do you want to wear the ball stretcher only during intimate moments or enjoy the feeling in everyday life as well?
All these are important criteria when choosing the size, material and also closure type of the ball stretcher.
Which height should I choose?
Especially as an inexperienced person, you should start with a smaller height, because the body must first adapt to such a weight on the testicles. For this reason we offer our ball stretchers in different weight classes between 150 g and 6 kg.
Advantages of the Donut Ballstretchers made of stainless steel by:
Exact processing as well as even curves
By the use of medical high-grade steel also for allergy sufferers in the best way suitably.
Directly from the manufacturer Steeltoyz
Pleasant to wear even over long periods of time thanks to the smooth surfaces.
In addition, you will be particularly enthusiastic about the Ballstretcher:
Stainless steel is easy to clean and disinfect
Optically through the clear lines
The ball stretcher quickly adjusts to body temperature.
The optimal weight for your stainless steel ball stretcher
You should always start with a light weight and work your way up slowly when ballstretching. We offer ball stretchers starting at a weight of 150 grams, which are best suited for beginners.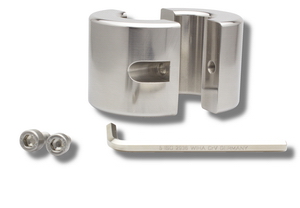 Experienced users can increase the weight up to six kilograms with our testicle rings.
Which one fits me?
The right fit of crucial importance. The testicle weight should fit snugly without constricting the scrotum. The best way to determine the diameter is after a tape or a long, hot shower.
Place a flexible measuring instrument such as a tape measure or shoelace loosely around your scrotum above your testicles.
Don't pull the tape too tight. A pen or your little finger should still have room. You should now write down the result in millimeters and divide it by 3.14. This will give you the diameter of your scrotum.
This gives you the diameter of your scrotum. Now look for an inner diameter of the ball stretchers that is as close as possible to your result. This way the testicle ring will fit perfectly on your scrotum.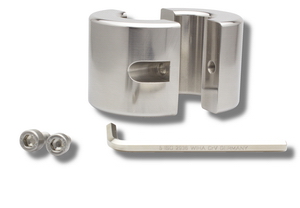 How to stretch your scrotum correctly
- The scrotum should only be stretched slowly and carefully
- Take a lot of time and wear the Ball Stretcher over a longer period of time
- Care for the skin of your scrotum with a lot of cream and ensure the necessary elasticity
- Increase the weight only very carefully to avoid injuries
Care made easy
You don't need any special cleaners for our stainless steel ball stretchers. Normal household hand soap and warm water are sufficient for thorough cleaning after use.
Medical stainless steel: Optimal for ball stretchers
In our production we only use medical stainless steel, which is also used in other medical products. Important here is the very good skin compatibility and the optimal compatibility for allergy sufferers.
The stainless steel also offers a very good and even weight distribution, which additionally increases the wearing comfort. In addition, the material is extremely durable and dimensionally stable, so that our customers can enjoy their ball stretcher for a long time.
The stainless steel material also quickly absorbs body temperature, so that even long wearing sessions are enormously comfortable.

Real quality convinces: Buy Ball Stretcher
The distinction in quality is hardly possible at first glance. Especially for laymen, testicle rings all look somehow similar, so that a simple distinction of qualities is hardly possible. Therefore, contacting the manufacturer of the ball stretchers is the best way for you to learn about the practical and erotic sex toys.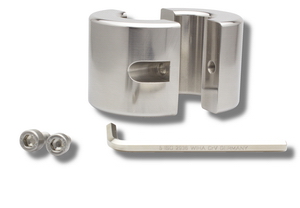 With cheap products from the Far East, this already becomes the first hurdle. However, since you are reading these pages, you already know that you should pay attention to quality and have come across Steeltoyz.
We not only offer you ball stretcher in extremely high manufacturing quality, but of course we tell you comprehensively which materials are used in our products
This is especially important to us. We attach great importance to the fact that we produce our ball stretchers exclusively in our own factory and do not buy any stretchers from other manufacturers. This is the only way we can guarantee the quality of our materials and our workmanship. We only use medical stainless steel for our ball stretchers, which is also tolerated by allergy sufferers without any problems.
In addition, we always stand by our customers and offer a good accessibility in case of questions or problems. Are you looking for a testicle weight in a special format, which can be optimally adapted to your wishes and preferences?
Then just contact us and we will see what is possible and feasible. Of course, the prices at Steeltoyz cannot compete with the cheap prices of Far East manufacturers. But we don't want to do that.
Because we offer only high-quality materials, a production directly in Germany and a quality, which is unparalleled on the market for sex toys.
If you did not find the right testicle ring, we are also happy to manufacture custom-made products
Just write us an email with the desired measurements for your testicle weight !
Pictures of our customers can be found here