How does a labia spreader work?
A labia spreader also known as a vagina spreader, pussy spreader or even a labia spreader, has several functions. On the one hand, it should stimulate the woman's G-spot if possible and irritate it with its shape and movements. Secondly, as the name suggests, the labia spreader spreads the woman's labia wide apart.
On the one hand, this exposes the head of the clitoris, so that it can be stimulated better and more intensively. On the other hand, many women enjoy the feeling that the vagina is spread wide open and thus feel touch more intense.
How do I use a labia spreader?

A labia spreader can be used in different ways. Many women use the spreader as a sex toy and use it for masturbation or during sex, among other things. But one is also very suitable as a supplement to manual or oral stimulation by the partner.
Some models can also be worn during sex without any problems and make the experience even more intense for both the woman and the man. This is mainly due to the many rings and the design of the spreader arms, which provide continuous stimulation.
Tip: With a little lubricant, the insertion works even better.

How to insert a labia spreader?
Labia spreaders are available in various designs and shapes with silicone coating. The sex toys should best be made slippery with lubricant gel. The body of the labia spreader is now inserted into the vagina. Depending on the body type and arousal, this often goes very easily and without much effort.
The arms should be turned so that they push the labia away to the outside and thus fulfill their actual purpose. Some labia spreaders have clamps which can be attached to the labia.
Labia spreaders are enormously popular with both men and women.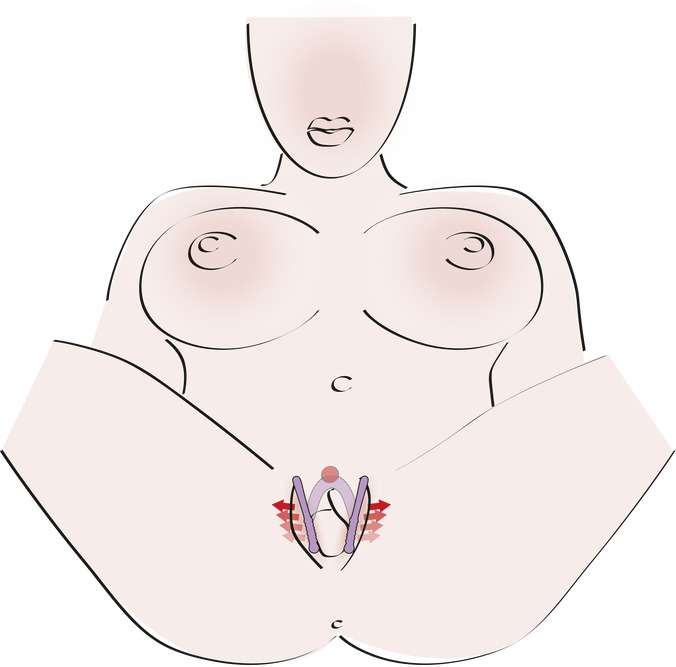 This is not only due to the easy and comfortable use of these sex toys, but especially due to the wonderful sight, which can be achieved by the labia spreaders.
The wide spread labia allow a direct view of the inner and small labia, make the clitoris easily accessible and open the lady comprehensively for the most diverse stimulations.
Thanks to the large selection of different labia spreaders, you can experience your partner as open as never before or even include the labia spreaders in the stimulation. After use, they can be cleaned with a toy cleaner or water.