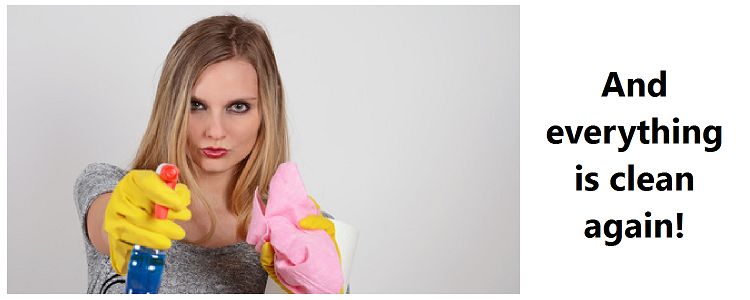 Toy Cleaners help you clean your sextoys and ensure absolute cleanliness. So you can be sure that you can enjoy the fun with your toys for a long time. High-quality toy cleaners are used not only in the private sector, but also in the professional area to disinfect the toys in a comprehensive and safe manner. So you can calmly enjoy your sextoys and do not have to worry.

Sextoys want to be cared for
Sextoys can greatly enrich the love life. So that you can have as long as possible the joy of the sextoys, but these must be comprehensively maintained. This does not mean much work for you, but the life of the toys can extend noticeably and protect your health. Toy Cleaners are used to remove bacteria and prevent infection. Even if you only use the Sextoys alone, you should clean them thoroughly after use. A large part of toys, especially those made of silicone or extra waterproof toys, can be easily cleaned with water and mild soap. Other materials and sextoys often require special care and cleaning. Please inform yourself about the different cleaning possibilities before the purchase and cover with the appropriate Toy Cleaner.
Toy Cleaner gentle and safe

Even if the cleaning with water and soap is sufficient, not all toys can always be so cleaned. Toy Cleaners ensure a thorough cleaning of your sextoys with gentle means. This makes Toy Cleaner no problem for sensitive skin parts. You only have to spray your Sextoy with the Toy Cleaner and wipe it with a dry cloth. Toy cleaners are also available in containers of different sizes. So you can easily pack a small bottle of Toy Cleaner on the road. This makes the Toy Cleaner easy for travel and small trips. If it is particularly simple and thorough, you can also use Toy Cleaner Cloths. These wet tissues are already dipped in Toy Cleaner liquid and can be used directly. Also these towels are available in larger packages, so you can always clean your toys.
How should I clean my sextoys?
It is advisable to clean the sextoys directly after each use. Warm water and mild soap are recommended in any case. Make sure, however, that the toys are designed for such a cleaning. Not all electrically operated sextoys are waterproof. In this case, you must carry out the cleaning particularly carefully and only with a damp cloth. After the first cleaning, you should also disinfect the toy with a Toy Cleaner. Because Toy Cleaners are extremely effective against bacteria, fungi and other pathogens and ensure a fast and thorough disinfection. Let the Toy Cleaner just briefly apply and then wipe it with a dry and best lint-free cloth again.
Can not I just use normal disinfectant?
Conventional disinfectant is generally not suitable for cleaning sex toys. Household disinfectants are often too aggressive and can damage the surface of your sextoys. In the worst case, even the complete toy can be destroyed by the disinfectant. In addition, normal disinfectants are extremely aggressive and can cause irritation on the skin. Do you really want to use or even introduce a sextoy, which leads to such irritation? Better not! Use a special Toy Cleaner and enjoy your sex toys for a long time.
Are Toy Cleaners harmful to health?

Toy cleaners are absolutely safe when used correctly and can be used without any problem. Even Toy Cleaners should never be sprayed directly onto the skin or the mucous membranes, as they could also cause irritation there if they are in direct contact. If, however, the Toy Cleaner is sprayed onto the sextoy and wiped with a clean, lint-free cloth after a short time, the use is absolutely safe.
Enthusiasts at the Toy Cleaners will:
The easy and fast use
The thorough disinfection
The feeling of safety when using the Toy Cleaner
Other advantages of the Toy Cleaner are:
Versatile application possibilities thanks to spray bottle or cloths
Quick cleanliness even in the professional environment
Easy to use with most sextoys
Do not hesitate, but get the right Toy Cleaner for your sextoys. You will be surprised how clean and pure your toys will feel. In the future, you will no longer want to do without the Toy Cleaner.