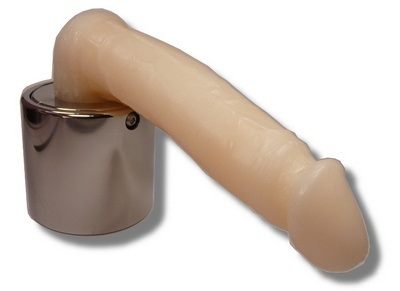 Ballstretcher Stainless steel cup 1.5 kg - 4 kg weight
The combination of testicle ring and Ballstretcher cup not only ensures a better result, but also offers enormous expansion potential for the BDSM games of our customers.
The testicle ring made of solid stainless steel is placed around the testicles and screwed there with the Ballstretcher cup.
The Ballstretcher is easily expandable
If the weight of both elements should not be big enough, further weight or a fastening can be attached to the Ballstretcher cup thanks to the built-in M8 thread.

Both the testicle ring and the Ballstretcher cup are convincing due to the high-quality workmanship in our company, so that we can also supply custom-made products on request. Both elements are made of the best medical stainless steel, can accordingly be easily cleaned and are ideally suited for allergy sufferers.
Thus, through the combination of testicle ring and Ballstretcher cup significantly higher successes can be achieved , than with the conventional variant.
Stainless steel, the material of the extra class for the Ballstretcher cup
The material stainless steel is extremely skin-friendly. You can hardly feel the Ballstretcher once your body heat has been transferred to the Ballstretcher. For the production in our company we use only first-class and allergy-free stainless steel.
This is also used for medical products. The Ballstretcher made of stainless steel is easy to clean, extremely hygienic and impresses with its long lasting value.
The seamless finish makes it particularly pleasant and comfortable to wear around the scrotum. A purchase for a long as well as intensive stretching of the testicles and the scrotum with the Ballstretcher cup!
Get it now and secure the high-quality Ballstretcher cup at Steeltoyz. You will be amazed at how intense a stretching of the scrotum can feel.