Understand the world of bondage
Before you buy bondage ropes, you should familiarize yourself with the world of bondage. Bondage is a type of play within BDSM and involves one partner taking control of the other. With bondage ropes, you can tie yourself or your partner up and gain new erotic experiences.
But don't worry, bondage is all about the fun and sexual satisfaction. It's important that you and your partner always feel comfortable and that you both respect the boundaries.
Find the right rope
There are many different bondage ropes on the market, varying in material, strength and length. You should make sure that you buy a rope that suits your level and needs.
If you are still a beginner, we recommend you to start with a softer rope. Such ropes are more flexible and gentle on your skin. Advanced players can try harder ropes, which are suitable for harder bondage games. Also, you should pay attention to how long the rope should be. If you want to tie yourself up, you will need a longer rope than if you want to tie up your partner.
The color of the rope is also an important factor. You can choose between different colors, from traditional black to bright colors. Choose a color that you and your partner like.
Safety first
Bondage ropes can be very exciting, but it's important that you pay attention to safety. Make sure that you or your partner can be released from the bonds at any time, if necessary. Never use ropes that are too tight or constricting. It is important that you always pay attention to breathing and circulation.
Let your imagination run wild
With bondage ropes, you can let your imagination run wild and experience new erotic adventures. Whether you're tying yourself up or your partner, it's important that you both communicate with each other and respect your boundaries. Be inspired by the possibilities and experience new erotic heights.
Bondage rope made of high quality materials
Knots are particularly easy to remove from both types of rope, and both types of rope can be opened quickly and easily with scissors or a knife in an emergency. This ensures safer bondage games and more enjoyment of the bondage pleasure.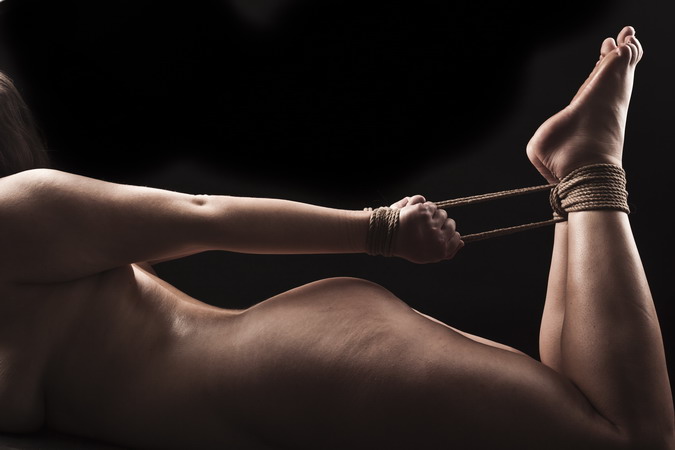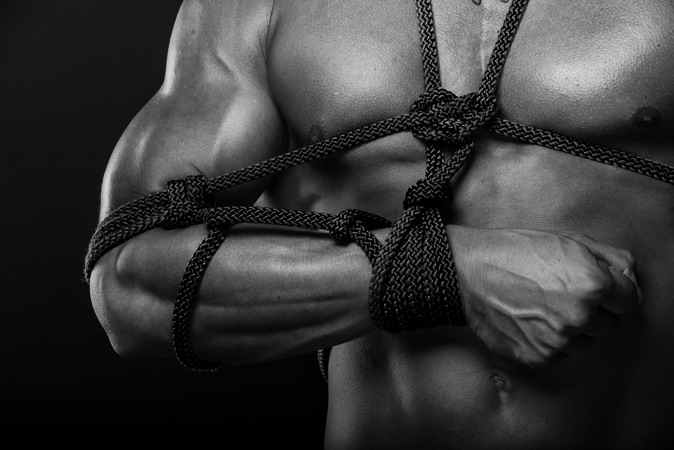 Comparison of rope types or material
Bondage ropes actually come in many different variations. A rope is not equal to a rope! Is to discover different characteristics in the strength, as well as in the materials used.
Choosing the right diameter of bondage rope
Let's first deal with the rope strength, that is, the diameter. This plays a very important role in the art of bondage. Among other things, the diameter determines how painful the bondage is. In addition, the rope thickness is also determinant when it comes to the strength of the knots.

The average is 6 to 8 mm for a bondage rope. The thicker the rope, the more suitable it is for beginners. This is because thick ropes cannot be pulled as tightly. This ensures that the knots can be undone effortlessly afterwards. If you are a beginner, use a thick bondage rope for your bondage games.

Thin ropes are easier to knot and tighten. However, these should be used with caution. Bruising and too much constriction can occur with ropes that are too thin. They should only be used by experienced tops.
Bondage Ropes Materials
With bondage ropes, you have the option of using different materials. There are synthetic fiber blends, hemp, jute, cotton ... We will gladly explain here which ropes are best suited for what.
Synthetic fiber ropes
A synthetic fiber rope is the right thing for you if you are still a beginner. The ropes are mostly made of polyester or nylon. They are easy to tie, but also come undone just as easily.
It is a skin-friendly material and does not chafe. In addition, these ropes also do not heat up when pulled through quickly. So it can also not lead to burns. The perfect toy for those who just want to give it a try.
Cotton or jute
If you are already experienced and like it a bit stronger, natural fibers like cotton or jute are a good choice. They are materials that don't require any kind of post-treatment. Just unpack the rope and get going. A jute rope is nice and strong and can be used for a variety of bondage methods. Much the same as the cotton rope.
There is a high tensile strength, but the knots are not untieable. It is important that cotton ropes are washed regularly, as dirt quickly gets caught in them. Advantage: they can be used even when wet.
Hemp ropes
Hemp ropes are used for advanced BDSM. They are very high-quality and particularly robust ropes. Among other things, they are used for suspension bondage. However, some time must be invested in hemp ropes. The material is stubborn and shaggy. Therefore, it requires a supple pre-treatment. Treated, they are the perfect tool to practice the artful Shibari.
Bondage rope: It depends on the length
Depending on what bondage games you want to use your rope for, you should choose the appropriate rope length. For hand or foot bondage, a rope with a length of about 3 m is sufficient. If it is to be a bed bondage, 5 to 8 meters are recommended. From 10 meters, such a rope is a bit more difficult to handle, but can be used all the more artfully.
Also, the choice of means, that is, the way of bondage and fixation plays an important role and can contribute immensely to the sensation of the situation. Bondage, however, in any field, needs four simple and basic principles according to which both partners should play with each other: Voluntariness, Trust, Responsibility and Understanding.
It is important that you choose the right bondage rope for your needs. Think about what you want to accomplish and choose a rope that best meets your needs. It is also important that you pay attention to safety and always pay attention to breathing and circulation.