Penalty buck guidebook
The punishment trestle: Lustful piece of furniture in many variations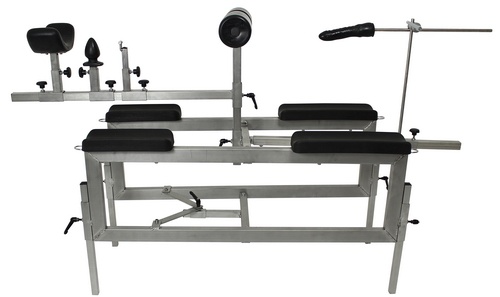 The punishment trestle is for many people a clear synonym for sadomasochistic games. Thereby, the punishment trestle is used in the most diverse areas of BDSM and does not always have to be associated with pain.
Often it is mainly the extremely exposed position, the bondage and fixation possibilities and the good access to the different body orifices that make the punishment trestle interesting even for people without masochistic or sadistic inclinations.
Meanwhile, punishment trestles are on the market in a wide variety of designs, which offer an enormously wide range of possibilities and are perfectly suitable for the most diverse games. Depending on personal preference, the appropriate punishment trestle can be chosen and the sub can be fixed on it in different poses in an uncomplicated way.
Reasons for the use of a punishment trestle in BDSM
In the most diverse BDSM sessions the punishment trestle is used very gladly. Besides its great flexibility, psychology also plays an important role. Because the position on the punishment trestle is not only submissive, but also extremely degrading for very many people.
Already the request to go to the punishment trestle can trigger a deeply felt pleasure in many people, which is strengthened and intensified by such a degrading position. Of course, the entire setting plays an important role in this. Due to its nature, a punishment buck can be combined with the most diverse fetishes.
Who is into leather, lacquer or latex and loves these clothes himself, can be fixed in such fetish clothes at the punishment trestle. Those who mainly want to enjoy the fetish through the clothes of the active partner often have this on a punishment trestle directly in front of their eyes, but no possibility to interact and become active themselves.
Also for the most diverse dominance and control games, the punishment trestle is thus excellently suited. Depending on the type and structure of the punishment trestle, a session on the trestle can also be enjoyed over a very long period of time. What is important in any case is that the punishment trestle offers almost endless possibilities to enjoy different games with different weightings.

For example, the stance on the punishment trestle allows for very precise control of the hit area during flagellations, and thus very precise control of the intensity for the sub(s). In addition, the sexual organs of the or the sub are very well and easily accessible on most of the punishment trestle models.
Thus, these can not only be included in the various BDSM games, but also treated in the most diverse ways. This absolute availability and this impossibility to resist or to resist any sexual stimulation is for many people an enormously strong trigger and a clear enrichment of sexuality.
Accordingly, a high-quality punishment buck can make many a session more interesting, flexible, open and exciting.
The punishment buck in different designs
The transformation from the classic spanking trestle to today's SM furniture have been slow and gradual. Even today, the punishment trestle is constantly being expanded, redesigned and changed in its designs and is thus subject to constant change.
Although the basic orientation and the basic function of the punishment trestle has not changed, the increased requirements and the many new possibilities flow again and again into the development. Basically, there are now three different models of punishment trestles, which can of course vary significantly depending on the manufacturer.
There isno perfect punishment trestle for every person and every use, but there are a number of possible options from which you can choose. However, in order to be able to choose a certain model, you should know the advantages and disadvantages of the different punishment trestles in any case.
The classic punishment trestle
The classic punishment trestle is similar in construction to the horse used in gymnastics classes. A smooth surface on firm legs distinguishes such a punishment trestle. However, depending on the model and design, this punishment trestle can be used and extended in many ways.
For example, the current models have various fastening options to fix the passive partner to the punishment trestle and thus make escape impossible. The passive partner usually stands bent over the punishment tr estle and can be fixed in this position. Here, the correct height of the punishment trestle plays an important role.
This is because, depending on the height, the position on the punishment trestle can be pleasant or unpleasant. However, since in most cases the passive partner stands on his own legs and is punished in this position, the duration of the session with such a punishment trestle is significantly limited.
Most classic punishment trestles have a sturdy padding on the top, so that a comfortable support surface is created here as well. This not only provides more comfort, but can also significantly increase the stamina of the passive partner.
The classic punishment trestle is particularly popular in the area of flagellations, as with this one the back of the passive partner is very easy to reach. On the other hand, access to the sexual organs is only possible to a limited extent, since the partner often presses himself tightly against the punishment buck and thus no access is possible from the front.
However, the classic punishment buck can also be equipped with various additions. Here is a gray area, since such a changeable punishment trestle already falls into the range of multifunctional punishment trestles.
The knee trestle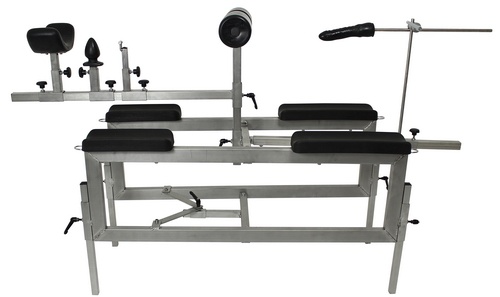 Knee trestles are available in many different designs. These are significantly more complex in design and accordingly offer significantly more playing possibilities. In such a knee trestle, there are support surfaces for the knees and usually also the elbows of the passive partner, which are well padded.
Most knee punishment trestles also have a support surface for the abdomen, so that the passive partner is forced into a fixed position on this punishment trestle. When the passive partner takes his position on the punishment trestle, it can be fixed by various means.
Many knee punishment trestles are already equipped with the appropriate cuffs to allow quick and comprehensive fixation. Thus, not only the arms and legs, but also the back and neck of the or sub can be quickly and easily fixed.
The legs are often slightly spread on such a knee punishment trestle and the buttocks are stretched upwards due to the design. Thus, the active player has direct access to the genitals and buttocks and can enjoy the most diverse games on the knee punishment trestle.
Such a punishment trestle is not only excellent for fixing, but also for the most diverse sexual game types. Whether the active part now takes advantage of the defenselessness and uses the passive part sexually or automates this work by using a fuck machine does not matter.
Many models even offer suitable mounting solutions for such machines, which can thus be positioned quickly and easily at the right height and distance. The passive partner cannot resist this form of manipulation on a knee punishment trestle and is completely at the mercy of the will and wishes of the active partner.
Due to the positioning on such a knee punishment block, already the tensing of the corresponding muscles is hardly possible, which allows an even easier accessibility. If you want to feel really at your mercy for once, you should try such a knee punishment block in any case.
Even if you prefer to be active and enjoy various BDSM games as a top, you should include such a knee punishment buck in your assortment. The various possibilities and the different settings and extensions allow you to adapt the punishment trestle optimally to your wishes and to position and treat your or your sub on it completely according to your ideas.
The spanking trestle
The spanking trestle is actually a subspecies of the knee trestle. Here the knee punishment buck is combined with the classic punishment buck. The passive partner is on his knees and can also be tied up if necessary. but there is a continuous support for the body of the sub.
As a result, the sub is less able to duck away and thus has to enjoy the strokes and spanking without any possibility of evasion. Such a spanking trestle can also be extended by various accessories, but it is by far not as flexible as the knee trestle or the multifunctional trestle.
Nevertheless, this spanking trestle is always a good choice if you prefer flagellations and spankings in particular and are looking for a firm and secure fixation for these games.
The multifunctional punishment trestle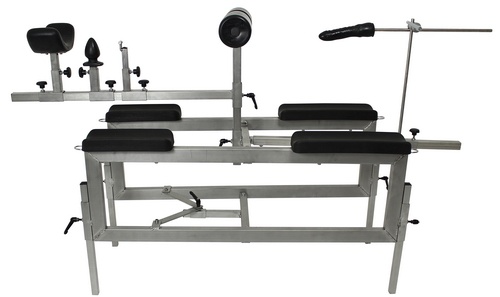 Multifunctional punishment trestles are characterized - as the name already suggests - by their high flexibility. Such a punishment trestle can be converted due to the most different elements according to desire and mood and open the most different application possibilities.
For example, such a punishment trestle can be used like a knee or even spanking punishment trestle, but offers a number of attachments and extensions with which such a punishment trestle is available for more types of games. Thus, it is very often the case with a multifunctional punishment trestle that it can be transformed into a perfect gynochair in just a few steps and through the use of appropriate leg holders.
For example, the sexual organs of the passive partner can be subjected to a close examination. Fastening solutions for fucking machines, spreader bars or other elements can also be found in rough quantities in such a multifunctional gynochair.
Due to this high flexibility, however, the demands on such a punishment trestle are also the highest. The possibility to adjust, rebuild and change the trestle must not be at the expense of stability or safety.
For this reason, you should only purchase such a trestle from a professional who can guarantee the stability of the materials as well as offer easy assembly and modification. Because with all flexibility also the speed plays an important role.
If the multifunctional trestle is to be used differently during a session, you should be able to adjust it in just a few steps. Only in this way can you use the various games and the advantages of such a piece of furniture without any problems.

Alternatives to the punishment trestle in the BDSM area
It is hard to imagine a BDSM environment without the punishment trestle. Nevertheless, many people not only use the punishment trestle for various games, but also furnish their studio and BDSM area with other pieces of furniture. Because as flexible as a punishment trestle may be, such a piece of furniture cannot and will not cover all areas.
Besides the punishment trestle, especially the St. Andrew's cross is enormously known and extremely popular among many BDSM lovers. The same applies to the ground pillory or the pillory itself, which, however, can often replace the punishment trestle.

Also extremely popular in many areas of BDSM are the so-called gynaecological chairs and gynaecological couches, which allow an intimate examination of the sub. These are - apart from the area of white eroticism - often also in dark colors and offer many bondage and fixation possibilities.
Thus, very many games from the thematic environment of BDSM can also be enjoyed on such chairs and couches. Treatment couches and BDSM beds are equally characterized by their high functionality and the various possibilities of fixation.
The wide range of furniture is complemented, among other things, by thrones and slave chairs, which can be designed completely differently depending on the area of use. In addition, there are many possibilities to use other pieces of furniture in the BDSM field.
However, among all the mentioned pieces of furniture, the punishment trestle is often the most diverse in its possibilities. Because a punishment trestle allows a variety of games, which would otherwise have to be performed on other BDSM furniture. In its diversity, however, a high-quality and good punishment trestle is largely unrivaled and thus the ultimate solution for many BDSM lovers.
Therefore, both dominatrix studios and private individuals place particularly high value on excellently crafted punishment trestles, as they can be used in a wide variety of games.
Different games on the punishment trestle
With a punishment trestle, the most diverse types of BDSM games can be implemented with enormous pleasure. Because a punishment trestle has long since become a real highlight not only for the beating faction of BDSM lovers, but also offers possibilities for various games due to its versatility.
Especially the friends of bondage have gradually learned to appreciate the punishment trestle. A well-designed punishment trestle offers enough possibilities to securely and stably fasten restraints and thus provide for a complete fixation.
The big advantage of these games on the punishment trestle is especially the good accessibility of the sexual organs and body orifices during such a bondage. Thus, the or the sub can not only be completely fixed, but is immediately and directly available for all further games.
If one combines a fixation on a punishment trestle still with an eye mask, all other games become a real highlight. Whether light strokes and flagellations, wax games or a gentle or even hard stimulation of the sexual organs.
In addition, many female tops enjoy it when the male sub is tied to the punishment buck that they can penetrate and pamper him anally with a strapon or various sex toys. But also female subs are often thrilled when you - tied to a punishment buck - can be degraded to the sexual toy of the active partner.
The sexual self-determination missing in the game is represented in many types of BDSM games and is very much appreciated by many active and passive players.
The range of play possibilities is of course strongly dependent on the design of the punishment rack. The more flexible this is designed and the more open the access to the different body parts, the more flexible the different games and play types can be combined and experienced.
However, many subs enjoy the punishment trestle even without an additional bondage, since already the submissive and as degrading perceived posture on a punishment trestle can offer an enormous incentive. Which games you want to experience on the punishment trestle, only you can determine.
However, a modern punishment trestle offers you a wide variety of possibilities and can often be supplemented and expanded with additional accessories. So you and your play partners have a wide range of possibilities and options for the ultimate kick. Simply decide on a basic form of the punishment trestle on which you want to build.
Should it be the classic punishment trestle, the knee punishment trestle or rather a multifunctional punishment trestle? Your ideas and wishes decide which form and type suits you best and which possibilities are offered to you with such a BDSM furniture.

Extend the punishment trestle with further BDSM accessories
The punishment trestle alone is already a versatile piece of furniture, which however - depending on fetish and preference - can be extended. Many punishment trestles, especially the multifunctional ones, offer various possibilities to make the games with the punishment trestle even more interesting and exciting.
After all, in many applications, the person on the punishment trestle is completely at the mercy of the active player and thus hardly capable of normal resistance. Thus, you can enjoy the most diverse games with the punishment trestle in the context of a BDSM session.
Thus, some punishment trestles offer the possibility to attach different dildos or vibrators to the punishment trestle and thus "tie up" the sub even more intensively. The attachment of different fucking machines can also lead to interesting possibilities with a punishment trestle and thus definitely intensify the sexual tension for the passive partner.
Many punishment trestles are also offered with various accessories, so that the appearance and functionality of the punishment trestle can be quickly adapted to the respective needs and demands. By attaching different buckles and holders, different spreading and fixing options, the options on a punishment trestle can again be varied significantly.
For this reason, penalty trestles are enormously popular with both active and passive players. After all, a high-quality punishment trestle can be optimally adapted to the desired games and the various fetishes and BDSM orientations in many respects and can thus be used very flexibly.
From gentle pats on the butt to hard bondage and wax games, the most diverse sexual desires can be easily satisfied on a punishment trestle. Thanks to the very wide range of uses, however, there is no such thing as the perfect or optimal punishment trestle.
It always depends on your own desires and intended types of play, for which punishment trestle you should choose. With a multifunctional trestle, however, you are enormously flexible and can enjoy a whole range of possibilities and options with one piece of furniture.

The punishment trestle in your own home: solutions and options
If you want to use a punishment trestle in your own home, you have two different scenarios to choose from in most cases. Those who have the chance and opportunity usually set up their own BDSM room. In such a room, the punishment trestle can be set up once and remain in place.
However, in most cases this is reserved for homeowners only, at least if one's BDSM inclination should not be known among friends and acquaintances anyway. If this is the case, there is no reason to hide the punishment buck. In such cases, the punishment trestle is often extended or supplemented with further pieces of furniture in order to be able to perform and enjoy the most diverse games.
In these cases, moreover, it is often not so crucial how many possibilities for restraint a punishment trestle offers, because here the environment can be optimally adapted to the punishment trestle. For example, grommets in the floor, ceiling or walls can offer entirely new ways to play with the punishment buck.
However, the majority of people not only want to use the punishment trestle, but also hide it from visitors or, for example, their own children, if possible. Of course, in such cases it is not possible to openly place the punishment trestle. So here it is of crucial importance that the punishment trestle can be set up and dismantled again.
Several things are of great importance here. Firstly, the stability of the punishment trestle must not suffer from these possibilities. The punishment trestle must therefore be manufactured so sturdily that it does not bend or change when assembled, but can be used for a wide variety of games.
The assembly and disassembly of the punishment trestle should also be as simple and uncomplicated as possible. If you have to spend several hours with instructions before a session, you usually don't want to play afterwards. Also, when disassembled, the trestle must be so compact and small that the individual parts can be easily and safely stowed and hidden away.
A big challenge for many manufacturers. For this reason, it is particularly important to purchase only high-quality punishment trestles from appropriately well-known manufacturers. These can usually meet the requirements without any problems and are still of such high quality that all games on the penalty trestle are possible at any time.
In any case, you should pay attention to the following when buying a punishment trestle
If you decide to buy your own penalty box, this offers you many new possibilities. Your personal background plays an important role. If you want to use the trestle commercially, you usually have a room in which you can easily set up the trestle.
For a privately used punishment trestle, the space requirement of the punishment trestle often plays an important role. Because not everyone has enough space to have the punishment trestle permanently built up. Those who can afford their own BDSM room do not have to pay as much attention to the space-saving storage option as those who only have to set up the punishment trestle for the individual sessions and then safely stow it away again.
In any case, a robust design is important. Because you should always consider that in many games the resistance of the sub is virtually expected. Especially if you play with strong people, they can quickly damage cheap and poorly processed penalty blocks in such situations.
This is a problem insofar as you can suddenly hardly use various functions and possibilities of the punishment buck because the material is tired or completely bent. Therefore, pay special attention to a very good choice of material. Stainless steel has proven to be particularly suitable, as this material cannot be bent or altered by sheer force.
The individual connections and screw fittings on your punishment trestle should also be of high quality and easy to operate. What is the use of a high quality trestle, which you can only change or adjust with great effort. Easily accessible set screws and adjustment options offer you many possibilities to use the punishment trestle in different ways, even during a session.
In addition, the material stainless steel is enormously durable. If you choose such a piece of BDSM furniture, you can use the punishment trestle for many years without any problems. In addition, the appearance of such a device also plays an important role.
With a stainless steel punishment trestle, you have a BDSM furniture that fits perfectly into any BDSM environment and often significantly influences the ambience.
The various fastening options for bondage and other BDSM utensils are also an important factor.
Because these ensure the high flexibility of a punishment trestle and can gain a very special meaning in many play sessions. After all, a high-quality punishment trestle benefits from its flexibility and its many options. The more options you have and the easier they are to integrate into the different games, the more fun you will have with your trestle.

In addition, you should not ignore the hygienic aspects. Especially if you want to use the trestle with different play partners, all parts of the trestle should be easy to clean and disinfect.
High-quality padding and a not too angled processing allow you a quick and uncomplicated cleaning before and after each session. Thus, you can offer your playing partners a high level of safety and play with the punishment trestle yourself without any worries.
After all, it may well be that you want to try out the punishment buck with the most diverse people. Since body fluids can also flow here, thorough cleaning is important in any case. A good and high quality punishment trestle will allow you to do this quickly and easily.

Use the punishment buck correctly: BDSM entry made easy
The punishment trestle in its various forms is first of all just a piece of furniture. While an enormously erotic and seductive piece of furniture, it is still a BDSM piece of furniture. This means that the fun and pleasure of such a piece of furniture is primarily initiated by its users.
Therefore, it is especially important that you familiarize yourself with the punishment trestle in advance of a session and get to know it properly. Take enough time to take a close look at your new punishment trestle. If the trestle is variable and adjustable, you should take the time to try out every single adjustment screw and test out the various possibilities.
After all, as the active part, you are responsible for ensuring that the session runs safely and without complications. Especially when fixing your or your sub on the punishment rack, a certain degree of comfort should be given. At least to the extent that there is no undue pain simply from being fixed to the punishment trestle.
Especially with the knee punishment trestle, you should pay special attention to the posture of the sub(s). Since there is little subcutaneous fatty tissue in this area, the posture must be comfortable enough to avoid so-called support pain.
Such pain becomes more intense over time and can quickly end the enjoyment of the session and push it further and further into the foreground. Especially during longer sessions and during bondage games on the punishment trestle, you should therefore check the alignment of the punishment trestle and adjust it to your playing partner if necessary.
It has proven useful and helpful to take the desired position yourself once and hold it for a certain period of time. Not only do you get to feel how painful or uncomfortable a certain position can be, but you also get a feeling for which postures and positions on the punishment trestle feel particularly embarrassing, open or arousing.
Even if the passive part doesn't suit you, this brief role reversal is helpful in improving your use of the punishment trestle and providing you with a better sense of the many possibilities. In addition, you'll be able to judge much more easily which positions you prefer in the game, giving your sub(s) much greater pleasure.
It is also enormously important for safety that you are well acquainted with your punishment buck. Because in bondage games on the punishment buck you must always keep control and be able to stop the session quickly and reliably. It's not easy to search for the right adjusting screws or to loosen the complicated bondage in panic.
In any case, consider beforehand how you want to make the bondages and at which points you can loosen them optimally. Although this has little to do with the erotic component of a punishment buck, it is in any case your responsibility during such sessions.
For this reason, you should take a lot of time, especially in the beginning, and get to know your punishment buck with all its possibilities completely. Only in this way you can be sure that you will enjoy the beautiful and exciting games with your punishment buck in any case.

Have you always dreamed of experiencing your partner on a pun ishment rack or being strapped on such a rack yourself as a passive partner? Then give yourself a jolt and decide for a suitable and high-quality punishment buck with many possibilities.
At Steeltoyz you will not only find excellently processed punishment bucks, but you can also rely on the quality and durability of the punishment bucks in any case thanks to our own manufacture. Take the chance and enrich your love life with such high-quality BDSM furniture.
Whether private or commercial: With a punishment trestle you can expand your possibilities enormously and perfectly live out many different forms of pleasure. Because a modern punishment trestle can be used for much more than simple punishments. We at Steeltoyz recommend you the universal punishment buck, which is characterized by its high flexibility and its enormous variety.
Enjoy the different games with your play partners, who won't get enough of the punishment buck either.