Application of anal chains
The anal chains or anal balls are sex toys that are inserted into the anus and stimulate it noticeably due to their special shape. For this reason, anal chains are used by women and men alike.
The anal chains can be used both for sole stimulation and for stimulation during sex and can increase lust in the long term. In any case, it is important that the anal chain is used exclusively with the aid of lubricant. The sensitive skin of the anus should be prepared with lubricant and plenty of time for stimulation with an anal chain.
The size of the individual chain bodies also plays an important role here. Beginners should first practice with small anal chains and slowly approach the larger variants.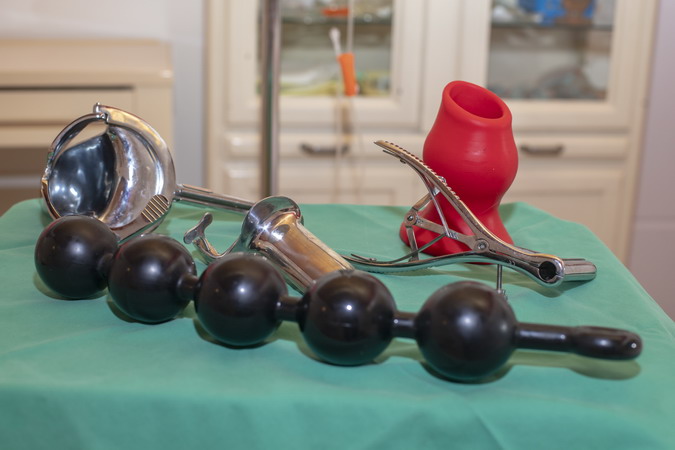 Stretch the anus first
Before using an anal chain for the first time, the anus should be stretched extensively and with plenty of time. It has proven to be extremely helpful to make the anus slippery by using lubricating gel and gently massaging it and stretching it carefully with your fingers. By circular movements of the sphincter muscle, it can be relaxed and prepared to receive the anal chain.
The use of a finger is advantageous because it can be used much more sensitively and the cramps of the sphincter muscle can be felt directly. This is not possible with a sextoy. This slow procedure and the extensive use of lubricant ensure a painless and pleasurable use of the anal spheres.
Basically, if pain occurs, the procedure should be interrupted at first. Pain is always a warning signal from the body and should not be ignored.
How do I use an anal chain?
First of all, you should thoroughly and abundantly lubricate your anus and of course the anal chain with lubricant. Stretch your anus a little bit with your finger and get used to the feeling. Now find a comfortable position in which you can easily reach your anus.
Now carefully insert the first one or two balls of the anal chain anally. Give your sphincter enough time to get used to the feeling and relax. Now you can gradually push the other balls into place. Allow yourself enough time for this.
Once all the balls of the anal chain have disappeared in the anus, you should feel pleasantly stretched and filled. It is particularly appealing if you slowly pull the anal chain out again ball by ball as the orgasm begins. You will be surprised how much your climax can be intensified by this.

For beginners, elastic anal chains, such as the ball anal chain, are particularly suitable. The pleasantly small diameter of the balls makes them easy to insert and the flexibility of the anal chain allows you to control the simulation inside you more precisely. So you can get used to this form of stimulation and stretch yourself further and further.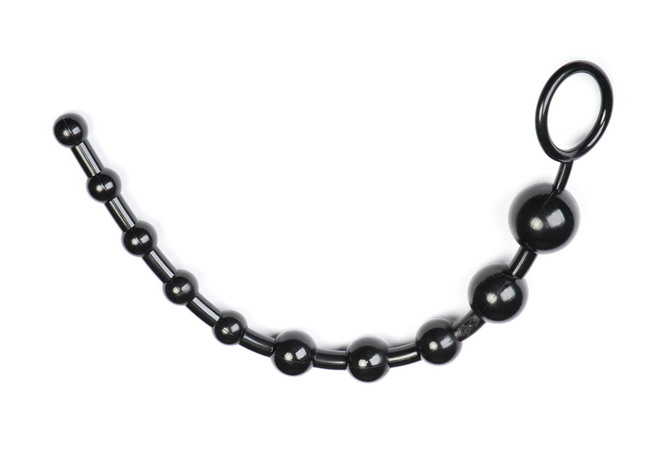 What do I get out of an anal chain?
An anal chain is extremely stimulating both when inserted and when sliding out. This is due to the fact that the sphincter muscle is surrounded by an enormous number of nerve endings, which means it reacts very strongly to stimulation. An anal ball offers a constant alternation of stretching and relaxation, as thin sections of the anal chain provide structure between the individual balls. The longer the anal chain is, the more intense this feeling can be enjoyed.
Things you should be aware of:
Take enough time when using anal chains and other anal sex toys
Only use anal toys with sufficient lubricant
If it feels uncomfortable or the stretch is too strong, give yourself a break during sex
Don't ever let yourself be pushed or talked into anal gymnastics.
Why should I try an anal chain?
Anal chains are ideal for you to slowly and gently get used to the feeling of anal intercourse and to enjoy the stimulation of your back entrance. Most anal chains have balls in different and increasing sizes. So you can slowly get used to the increasing stretching and stimulate your body slowly and continuously more strongly.
In addition, many anal chains are less threatening because of the initially very small balls and are ideal for beginners. The smooth transitions between the individual balls make insertion particularly easy and ensure a pleasant stretching and a great feeling of "being filled".
Both can make a conventional orgasm much more intense. Most anal chains have a handle or loop at the end which prevents the chain from disappearing completely inside you.
However, if you prefer a chain without such a handle in terms of design, you should leave at least two balls outside the body. This way you can remove the anal chain easily and without much effort.
Take hold and get the right anal chains for you and your experience now. The anal chains from tiny small to impressively large, you will quickly and easily find the optimal anal chain for your anal pleasure.