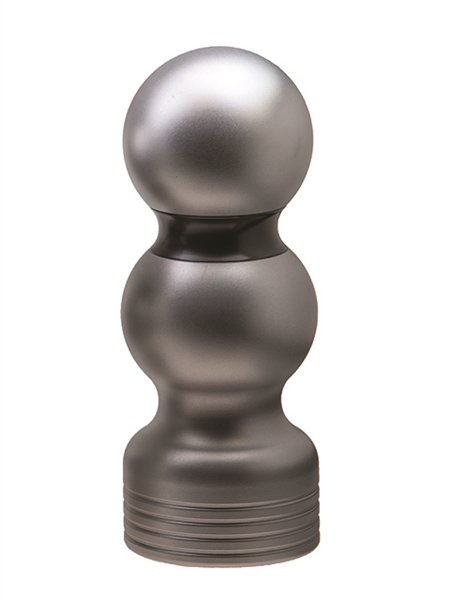 The Black Collection  is a family of 4 rounded and curvy  Bipolar  electrodes starting with...
more
Description "E-Stim New Black Collection XL"
The Black Collection is a family of 4 rounded and curvy Bipolar electrodes starting with Small and going all the way up to the substantial XL. All are based on our very popular Bobble but larger in every way and with our Luxurious Satin finish. The smooth spherical head allows it to slide in gently and the dual waist design helps it to stay in place and also means it can either be inserted just as far as the black insulator, focusing those sensations around the anal or vaginal opening. Or by inserting that bit further to the second waist it takes those sensations that bit deeper, delivering those tingles to the parts others simply don't reach.
Like the majority of the Estim Premium Electrodes, the contact points are top and bottom rather than side to side, providing a more natural feeling action when the electrode moves and is suitable for both vaginal and anal stimulation.
Produced to their usual high standards using aircraft grade materials and featuring our luxurious Satin Finish. All of The Black Collection will if cared for, last for years.
Every electrode is fitted with heavy duty 4mm sockets in the base. If you are considering long-term use, then we suggest using our Low Profile Cable as this is more comfortable and will allow for it to be either worn under underwear or sat on by the user without the fear of breaking a connector.
Easy to Clean
Cleaning is simple and easy. Anyone of The Black Collection can be disassembled and immersed and washed off in hot water with light detergent and then wiped dry. Caustic cleaning substances are not a good idea as this may damage your electrode, and obviously, you need to make sure the electrode is completely dry before storage.
You will need
Low Profile Cable
A cable with 4mm connectors 
4mm Cable
Length 163mm (6.41 inches)
Diameter 62mm (2.44 inches)
Circumference/Girth 195mm (7.7 inch)
Maximum Insertable Length 115mm (4.53 inches)
Weight 974g
Connections Dual 4mm sockets in the base
Related links to "E-Stim New Black Collection XL"
Read, write and discuss reviews...
more
Customer evaluation for "E-Stim New Black Collection XL"
Write an evaluation
Evaluations will be activated after verification.