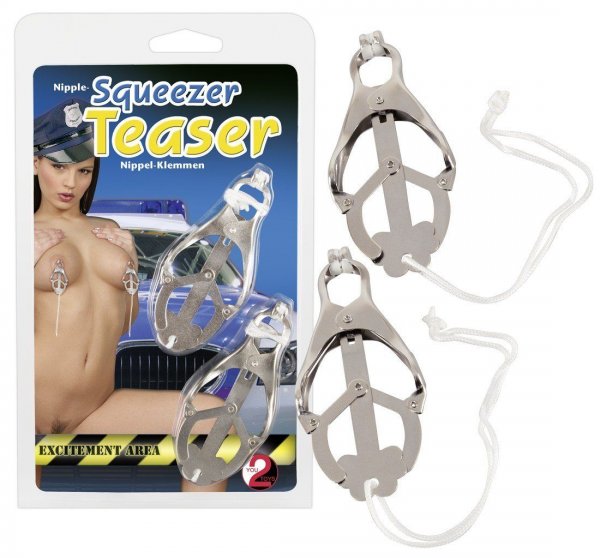 Order number:

05274590000

material composition:

metal, rubber, polyester
Exciting sight, horny carrying feeling! Elegant nipple clamps made of stainless steel with...
more
Description "Elegant stainless steel nipple clamps"
Exciting sight, horny carrying feeling!
Elegant nipple clamps made of stainless steel with nubbed rubber pads. Ensures a secure hold even when attaching heavy weights. 1 pair, each with strap.
Material: metal, rubber, polyester.
Experience the new lust as well as the arousing pain at the nipples
Our clamps are truly versatile and changeable and not just limited to the nipples. The nipple clamps are not only effective lust donors, but also look overwhelming. Many women wear their favorite pieces as jewelry. How provocative it is when your wife enters the love paradise gorgeously dressed and the very hard nipples adorn shiny clamps! This sparkle on the sensitive nipples and this feeling that a pain of lust is running through her body. It could hardly be more erotic!
What should I pay attention to when using nipple clamps?
The nipples are sensitive and for this reason, when using nipple clamps, it is important to pay attention to the partner's personal perception of pain. The clamps must be applied carefully. With the adjustable nipple clamps the intensity can also be regulated. It is correct if the nipple clamps just cause a pleasant pain. Couples who use nipple clamps for the first time should let their curiosity run free. However, the partner and his signals should always be kept in mind. If something turns out to be unpleasant, even a slight adjustment of the pressure of the clamps can cause a new shower of pleasure. For beginners as well as experienced BDSM-lovers will find exactly what they need. Experienced users know that it is worth trying different nipple clamps every now and then.
On the adventure with the nipple clamps
Have you ever gone to a restaurant with nipple clamps for a wonderful dinner? The nipple clamps can be worn under your blouse or shirt. Nobody knows your erotic secret. The horny kick with the nipple clamps is huge. Or come up with another erotic adventure. Maybe even while shopping and as a reward your partner will give you a present or a quick number in the changing room? Everything is conceivable. In the long run, it doesn't have to be just nipple clamps. You will quickly get the desire for other sex toys. Just try it out.
Are there still alternative zones where the nipple clamps can cause excitement?
The application on the labia can be really exciting. Here they produce a similarly lustful pain and can be integrated into any kind of foreplay. The scrotum also reacts sensitively to the stimulation by the nipple clamps. Vibrations and weights can increase this effect even more. Because of this, it is a secret advice among nipple clamp lovers to better buy several sets at once. One for the nipples and another for the simultaneous stimulation of other erogenous zones.
Related links to "Elegant stainless steel nipple clamps"
Read, write and discuss reviews...
more
Customer evaluation for "Elegant stainless steel nipple clamps"
Write an evaluation
Evaluations will be activated after verification.