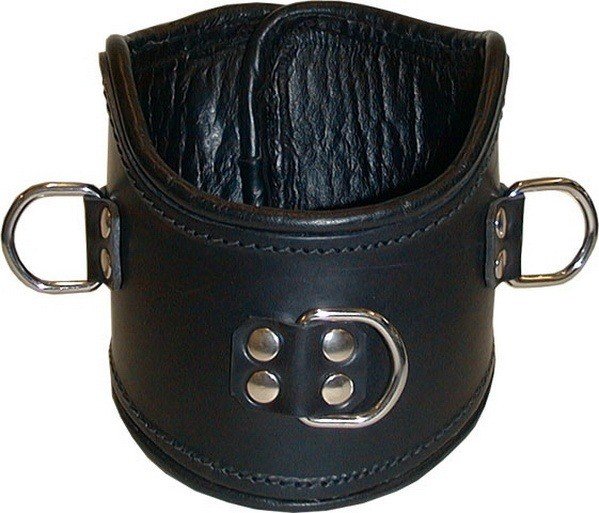 Of course, we also offer bondage leather collar. They are even wider and very uncomfortable......
more
Description "Leather positioning cuffs"
Of course, we also offer bondage leather collar. They are even wider and very uncomfortable...
This bandage collar is not lockable
Neck cuff with high comfort
All Steeltoyz neck cuffs are made exclusively of robust and beautifully crafted leather, which allows for a high wearing comfort. the well padded neck cuffs are available in different sizes, respectively adjustable and offer a reliable and comfortable hold. Thanks to the combination of our neck cuffs with practical and robust steel rings, the wearer can be fastened easily and safely as required. When producing such a collar we pay attention to highest perfection and exact and stable seams, so that our customers will enjoy these articles for a long time.
With a collar the positions are clearly distributed
Just putting on the collar demonstrates that you have your partner firmly under control. If he resists, it is best to put your partner on the chain and force him with a firm jerk to total obedience! If this does not help, we have alternative aids: handcuffs, spreader bars, ropes and gags. The neck cuff is often only given away when the sub has earned it, as a unique award and recognition. It is then bound to that person. We make sure that our articles are of high quality and above all that they meet the personal expectations of the subject SM.
Neck cuffs with a long tradition
The SM history of O has influenced the BDSM scene very much. The book as well as in the following filming the O the neck cuff is put on as a symbol of taking possession. She feels accepted, protected, and she knows that she is now protected by the Lord. Since then, the cuff of O expresses a special closeness. The Sub, no matter if man or woman knows: as soon as you have received the collar, you are no longer alone. One is accepted, loved, protected.
Collar a symbol of proximity
A beautiful collar or necklace is wearable for many years and is a sign of closeness. It can be a faithful, intimate companion for a long time.
Neckcuffs rather than just an accessory
In the broadest sense, necklaces belong to jewellery. They have gained more and more importance in the course of time and today they say something about the personality of the wearer. For this reason, there are many colors and models of necklaces in our BDSM online shop, which your partner will also like. These many variations will provide more variety in your love life.
Further links to "Leather positioning cuffs"
Read, write and discuss reviews...
more
Customer reviews for "Leather positioning cuffs"
Write rating
Reviews will be activated after verification.